Enter His gates with thanksgiving and His courts with praise; give thanks to Him and praise His name.
Psalm 100:4
Since it is Thanksgiving, I do not want to let the next few days go by without taking a minute to remember all the things God has given me to be thankful for.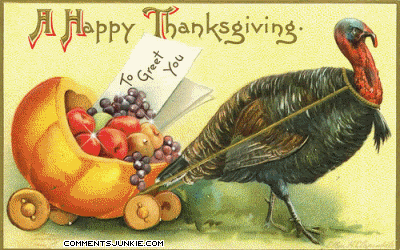 First of all, I just want to say that I really do try not to take all my blessings for granted. I don't know why God allowed me to live where I do and have the wonderful family that I have. But anything I have is only because He chose to give it to me and I am very humbled and grateful for His gifts.
So...with that in mind...I am thankful for:
1-Steve. Thank you, God, for choosing him for me! It was a perfect match. He works so hard for us and is a wonderful husband and dad. Even when all our kids are gone, we still have so much fun together. I am thankful for a great marriage.
2-Ashley-She is such a blessing to me. She is such a sweet daughter. She has always been obedient and respectful. She is smart and fun to be around. She has been awesome at her first teaching job. Her third graders love her! And now I have a son-in-law, too! And I am so thankful that he loves Ashley and already takes such good care of her. Seeing them so happy together makes me happy.
3-Mark-Thank you, God, for giving me this sweet boy. He is just a joy to be around. He has never given us a minute of trouble in his whole life. He cares about other people and is so kind and generous. I love his jokes and his wit. He is funny and so smart. He is the best son I could have ever asked for!
4-Laura-She is probably my most sensitive child. She is a great writer and poet. She loves music and is a great dancer. She writes the sweetest notes and gives awesome hugs. I love how she can't wait to come home and see me and how she is such a good sister and daughter!
5-Lindy-I am so happy for her this year. She is loving college and I am so thankful for that. She is my child that loves style and fashion. And she is so creative. I love how she is always happy to talk to me on the phone and I love her sweet heart. I am thankful for such a wonderful daughter.
6-My church-Where I go each week to hear God's word and get filled up and to see so many people that I have known for years and who I love like my own family!
7-My neighbors-Hands down, I have the BEST neighbors in the world!
8-My job-It is intense sometimes, but I'm thankful to have it. I love my sweet kids and their innocence and joy. The things they say and do just make me smile. And I love the people I work with. I'm thankful that I don't dread going to work each day.
9-My country. I am very patriotic and I just think we live in the most wonderful country in the world. I know we aren't perfect, but we are definitely blessed.
10-My extended family...my parents and Steve's parents and all our brothers and sisters and nieces and nephews. Each one of them lifts us up and encourages us and makes our lives a little better.
Then there are thousands of little things like beauty and music and clean sheets and sunny days and hot showers and warm fires and ice cold coke and cookies out of the oven and a full house and soooo many more. I could be here all day!
Anyway...I hope you take some time to think about your "thankful list" this week, too! That's what it's all about, right?